December 2019
The cleared site lies fallow while street artists make the most of the brick wall canvas on the boundary.
December 2019
July 2019
The site has been cleared by Delta.
July 2019
April 2019
Demolition work has begun on site. Not much more than the facade of this brick warehouse remains.
Brick warehouse - April 2019
Pile of bricks from demolition of the warehouse - April 2019
2017 - 2018
The site has lain fallow. Fennell grows tall.
Salvo branding flaps on the fence.
2 February 2017
Bill McNee sold the site to Mario Salvo for $40 million. (source:
Age 2 02 2017
)
4 September 2016
Marc Pallisco reports that developer Bill McNee is speculated to be selling half of the 9776 sq m 60-82 Johnson St site for about $28m. (Age, 24 09 2016)
Minister Wynne
issued a permit
for the site in May 2015.
According to Pallisco, McNee acquired the site in 2013 for $10.1m from the Kennard family.
The site has been for sale since September last year.
23 September 2015
The site at 60-82 Johnson St is for sale. Bought for $10m in September 2013, it is believed that the asking price will be $60m, according to
The Financial Review
.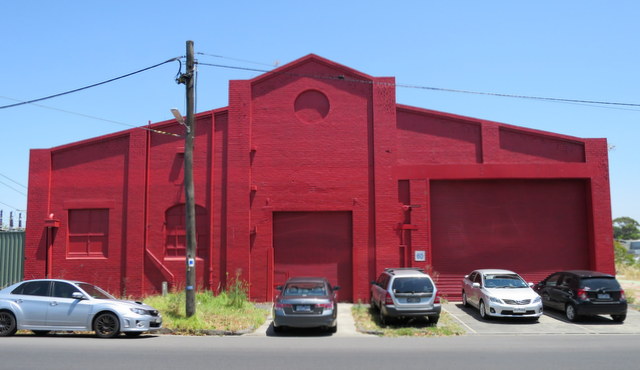 60 - 82 Johnson St, South Melbourne in 2015
29 May 2015
Seeing Red
When this warehouse thrust itself on my attention, I didn't realise that it was part of 60-82 Johnson Street – one of
three developments approved by Minister Wynne
on Friday 22 May. The development includes 1276 apartments built across four towers at from 21 to 46 levels.
Johnson Street is currently a quiet and handy link in the bike route from Port to Docklands and the world of the north beyond.
The planning application was first submitted back in 2013 and was assessed according to the Strategic Framework Plan approved by Matthew Guy, planning minister in the Napthine government.
It is not immediately clear whether the development on the
ROTHELOWMAN website
is the development that was finally approved.
Minister Wynne was at pains to emphasise that none of the single bedroom apartments was less than 40 m2 and none relied on borrowed light.
The planning report notes that Johnson Street is wide enough to support a Copenhagen style bicycle lane – but it is unclear whether that is a condition of the development.
The application leaves the wider public realm and community infrastructure questions unanswered.
More
Urban Melbourne provides all the facts and figures about this development – bike and car parking, apartment numbers, tower heights.
Urban Melbourne – 60-82 Johnson Street, South Melbourne- Sandridge precinct
2013
Brick warehouse 29 March 2013